There are 2 pieces to administering Services Plans – Response Forms and Services
All administration for Service Plans is done in the old interface. There are 2 pieces to administering Services Plans: 
Service Plan response forms

Service Plan Schedule Type
Services Provided
Remaining Need
Service Plan Response Forms #
Each Service Plan Schedule has a customizable form that is required to be filled out. These forms can be found under Tools > Administration > Forms and Reports as shown below: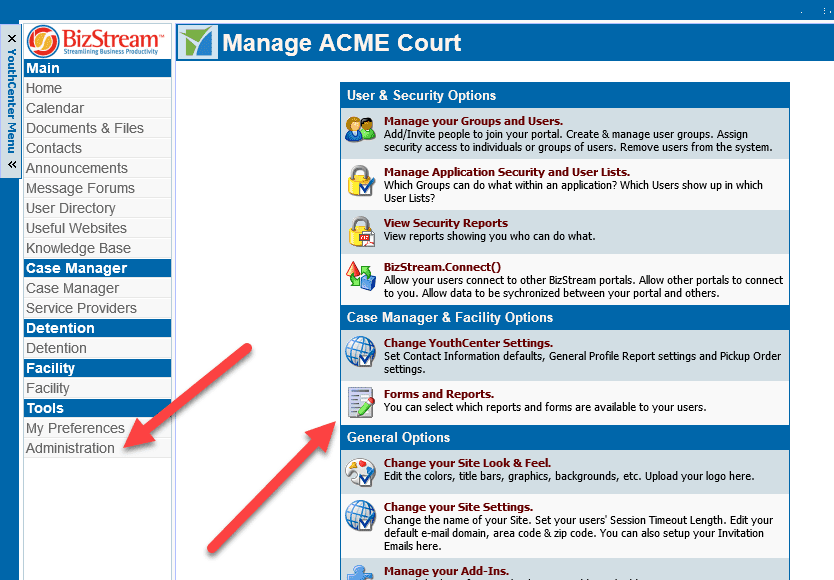 Once you've opened the Forms and Reports editor, navigate to the Client Tab: Service Plans form group as shown below.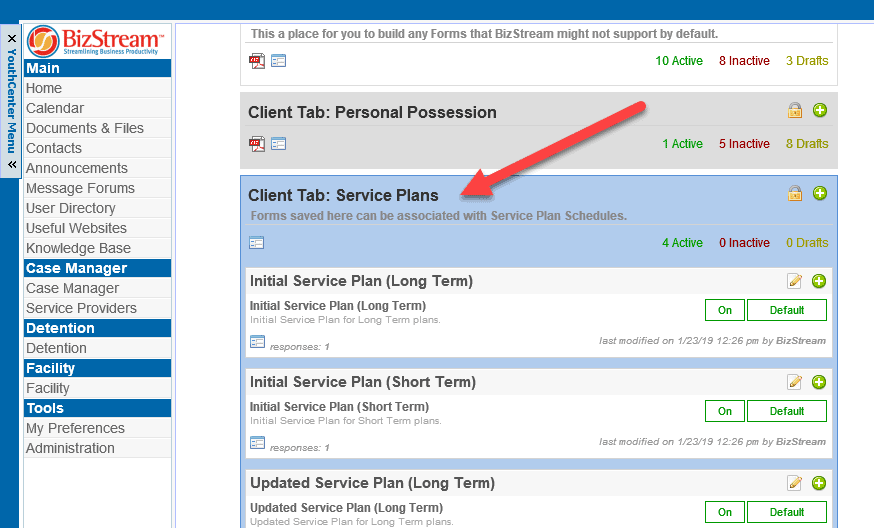 Once there, you may add a new form to the group or edit an existing form. These forms will be available for you to select from in the Service Plan Schedule Type administration tool.
Service Plan Services #
To administer the Service Plan Schedule types and the services associated with the Service Plans, you will need to be in the old interface and navigate to Detention > Administration > Services as shown below: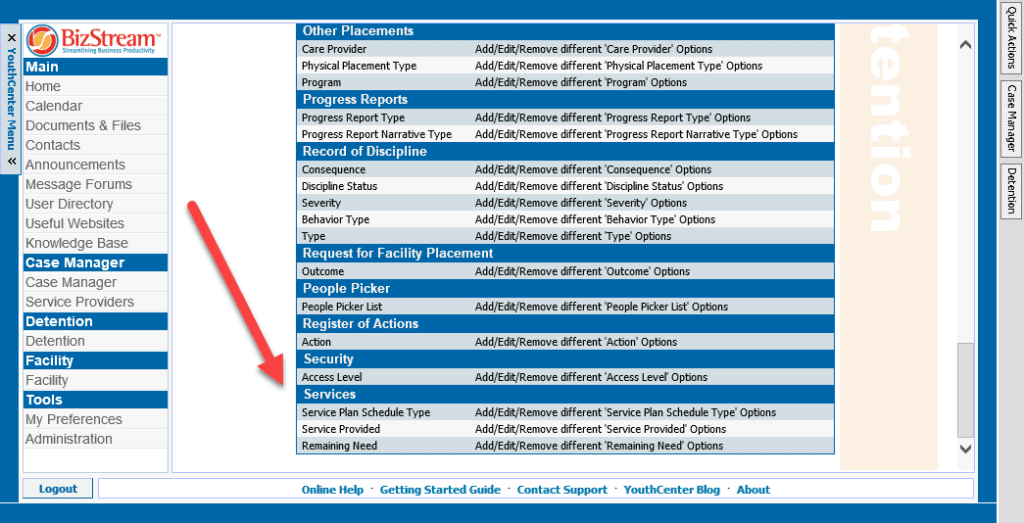 Service Plan Schedule Types #
Administrators may set up different Service Plan schedules to suit your organization's needs. YouthCenter provides 2 basic templates to start with, Long Term and Short Term.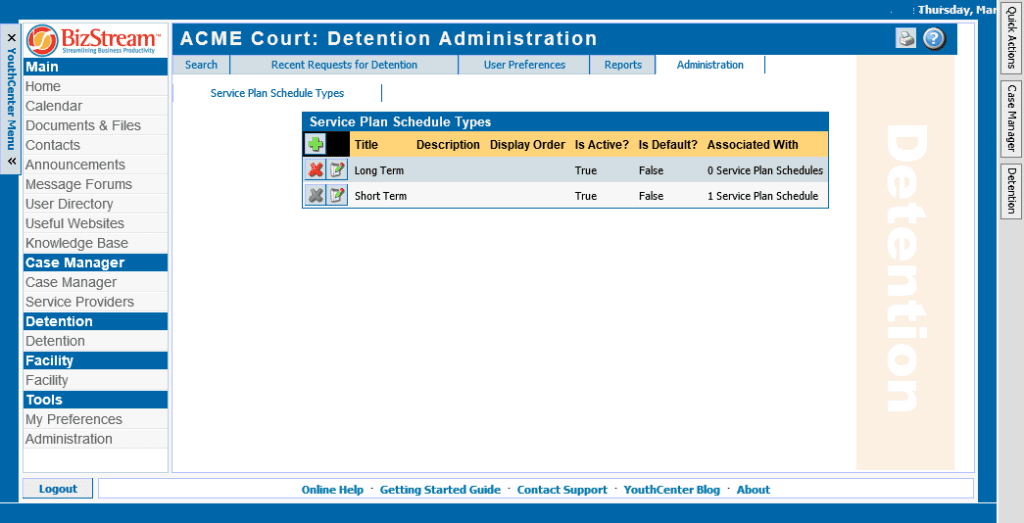 You may edit an existing service plan using the notepad icon or add a new service plan by using the green + button under the title which will bring up the Service Plan Schedule Type editor.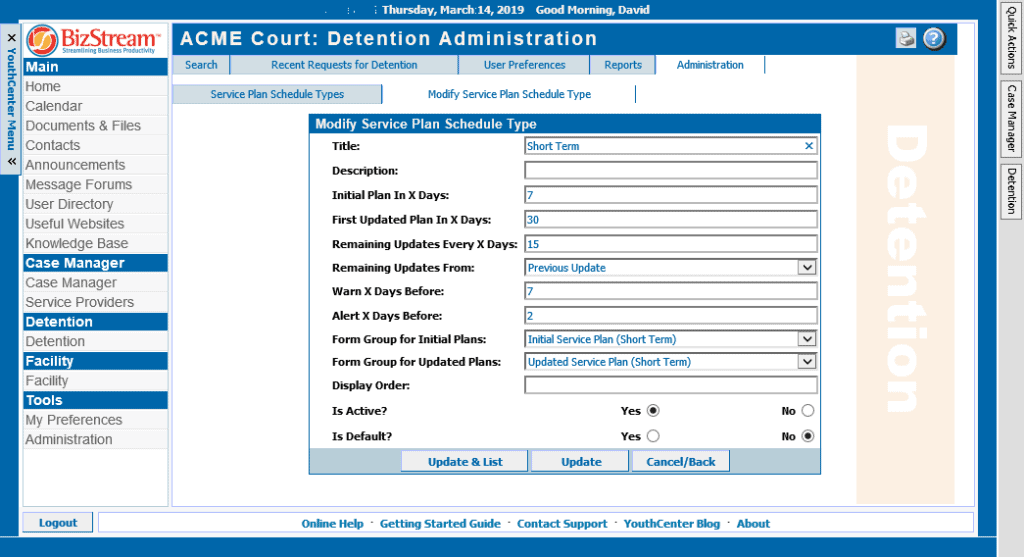 In our example above, we're showing attributes for the service plan. The fields themselves should be self-explanatory, however, it is important to note that there are 2 different forms for the plans, the Initial and the Updated. These forms are the form builder forms you can create in the Client Tab: Service Plans section of the Form Builder application. 
Be sure to mark the Service Plan Schedule as Active to utilize it. 
Services Provided & Remaining Needed #
Both of these lists correspond to the Discharge Plan within the Service Plan for a client.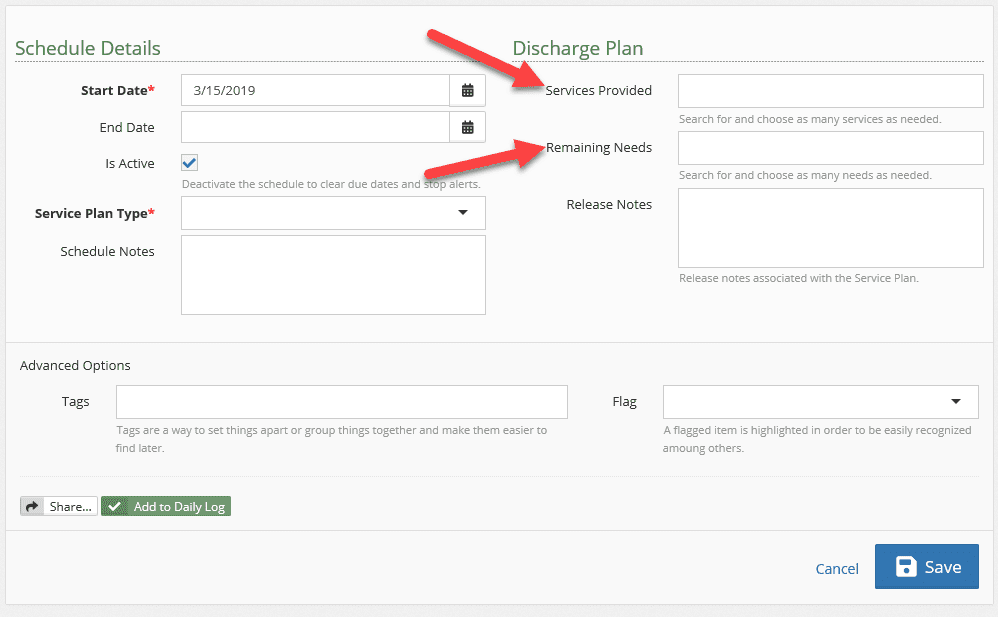 These are simply a listing of services and remaining needs that are associated with the fields. Add a name, description, and an order if you would like to have them added to the dropdown of the field on the Service Plan. 
Once you've set up your forms, added a schedule, and added services – your team can use service plans. 
Was this article helpful? #