Modifying client residency information is easily accomplished through the General Profile application.
Granted that you have proper permissions to edit a client's demographic information, you must first select a client through either the Search application under the Case Manager application or by using the Search Clients search bar in the top right of the screen.

Once a client has been selected, navigate to the General Profile application in the main navigation menu.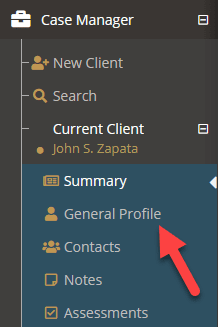 Editing a Client Residence #
From the General Profile application, scroll down to the Residency section
Select the carrot menu

Select Edit this Residency
Make any updates desired
Press the blue Save button in the bottom left
Deleting a Client Residence #
From the General Profile application, scroll down to the Residency section
Select the carrot menu

Select Delete this Residency
Select Yes, Delete Residency
Was this article helpful? #