As an administrator for your organization, one of the key advantages of YouthCenter is being able to modify the dropdowns to fit your organization's structure and needs.
You can access the Picklist Admin application under the administration menu: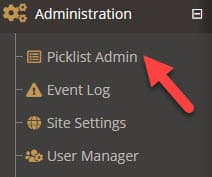 Let's say you wanted to add a new contact type to the Contacts app. Simply open up the Picklist Admin, scroll down to the Contacts app section, and select the Contact Type link. Alternatively, you can use the filter by anything box and type Contact Type and the list will filter down.

Once inside Contact Type, simply press the green + Create a New Contact Type and enter a title and description, then press save.

The new dropdown option is now available in the contact app. You can follow these steps to add to any of the available dropdowns in the system.
Was this article helpful? #