Can't find what you are looking for? Need additional assistance? BizStream is here to help.
You can call or email YouthCenter at any time, and we'll get right back to you.
For Support Issues Contact YouthCenter by Email or Phone #
Email support – [email protected]
Phone Support – 1.877.692.4978 (press 3 for YouthCenter sales)
Please include your name, telephone number, and e-mail address.
Provide us with all the details you have regarding your support issue. In this case, more is better! And attaching screenshots also helps greatly when it comes to troubleshooting issues.
Sending your support request via email directly enters your request into YouthCenter's automated help desk tracking system, which helps ensure you receive fast and effective support.
In-Application Documentation and Videos #
In addition to navigating to the documentation site, you can view helpful videos and application-based instructions by selecting the help icon on the top right of an application (we're growing our documentation over time, so this might not be in every application yet!)

Select the help icon and then select the document or video that relates to the action you are attempting to perform.
Contacting Support or Accessing Documentation from within YouthCenter #
From within the YouthCenter application, you can find quick links to both this documentation site and the support information listed above.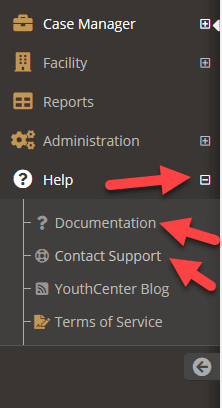 Simply navigate to the help application in the main navigation menu on the left, and select either Documentation or Contact Support.
Was this article helpful? #