If a client is not already selected, use the Case Management search or client search. Once a client is selected, select the Note application.
Given that you have permission to record drug tests, select the drug test from the left-hand menu under Case Manager –> Medical.
In the top right of the application select the green "+ Create a Drug Test" button

Fill out the form and press the blue Save button.
The Test Section #
The Administration Date is the date when the drug test was administered.
The Kit Used drop-down indicates which drug kit was used. Your administrators can customize drug kits.
The Sent To Lab checkbox indicates if the test results were self-reviewed or sent to a lab for analysis.
The Action Taken dropdown indicates what actions were taken as a result of the test results.
The Notes field allows you to record additional information about the drug test or results
The Results Section #
The results section is populated with drugs based on the kit selected in the Kit Used drop-down.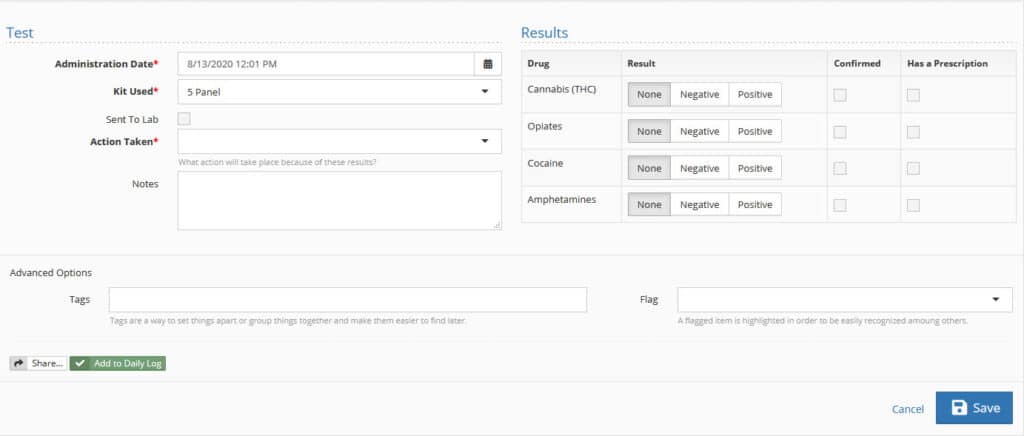 Each drug in the drug kit can return one of three results. None indicates that the test has either not been completed or did not include the selected drug. Negative indicates the drug was not present. Positive indicates that the drug returned as present.
The Confirmed checkbox indicates the result has been confirmed by an authoritative source such as a lab.
The Has a Prescription checkbox indicates that the client is expected to have a positive result for the drug. If a drug is present but the user has a prescription the summary screen will present a yellow caution flag, rather than a red warning flag.
Tags, Flag, Sharing, and Daily Log #
See the Tags, Flag, Sharing, and Daily Log help topic for more information on these common items.
Was this article helpful? #